My collection of Santas started with a "Clothique" Santa given to me by my daughter. I liked it so well that I bought a couple of the other "Clothtique" Santas.  My friends started giving me Santas and the collection took on a life of its own.  I placed a moritorium on Santas, but occasionally buy or receive one that is especially treasured.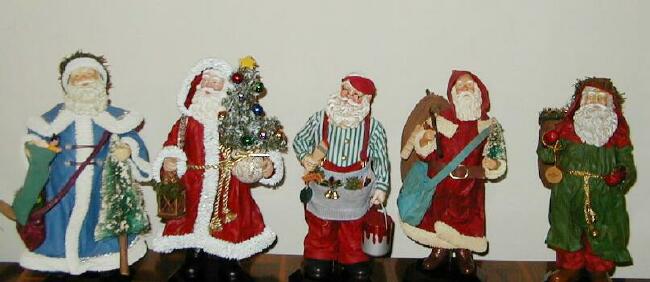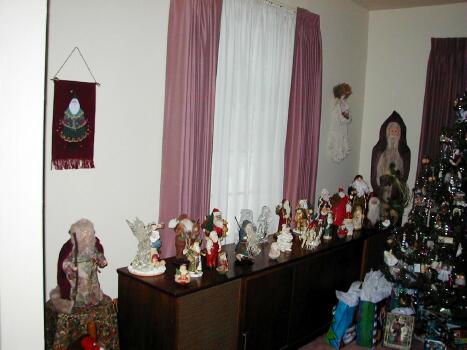 This is a shot of the Santas lined up on the stereo.  The Santa in the corner to the left of the tree (seen in picture below) is a painted wooden Santa that was a gift from my friend, Lesa Johnson.  The other photos are closeups.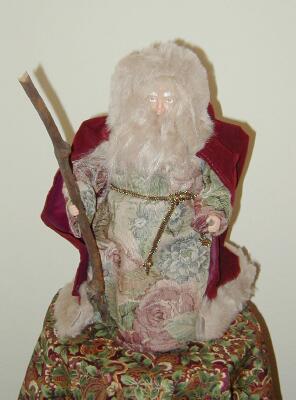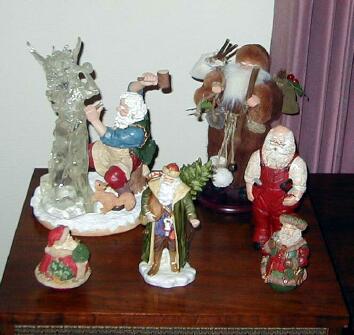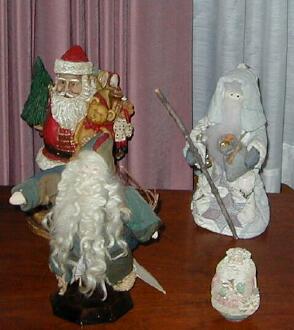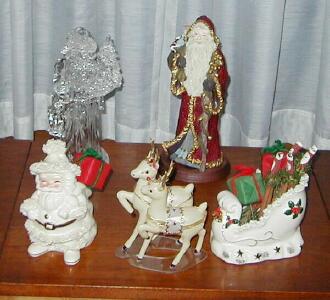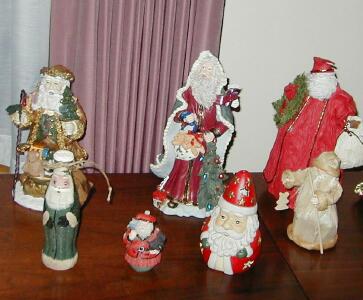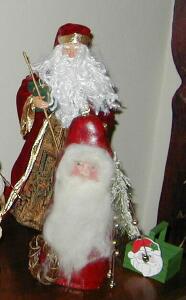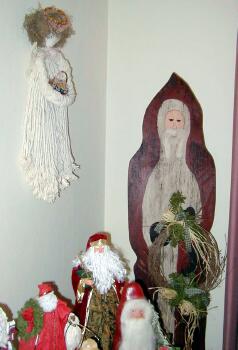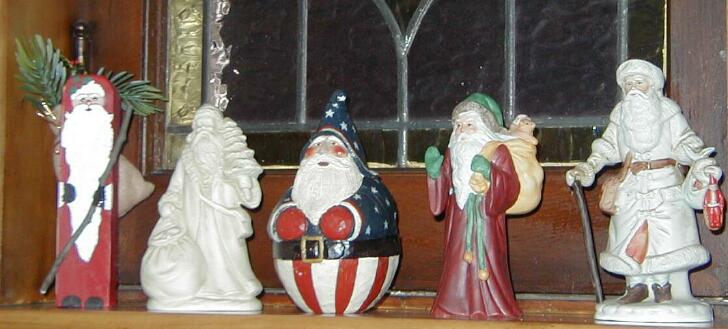 There are other Santas scattered throughout the house, wherever there is a flat surface:  window sills, tabletops, and the floor.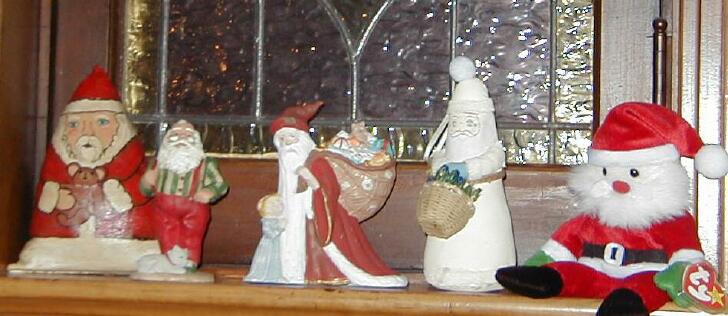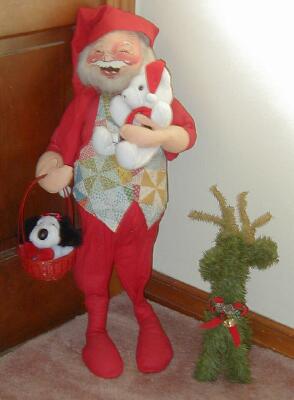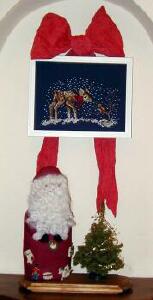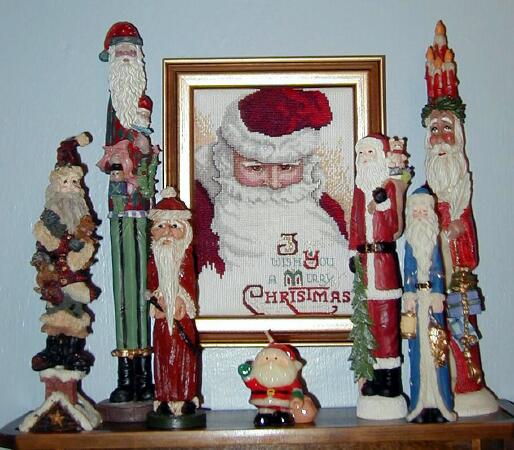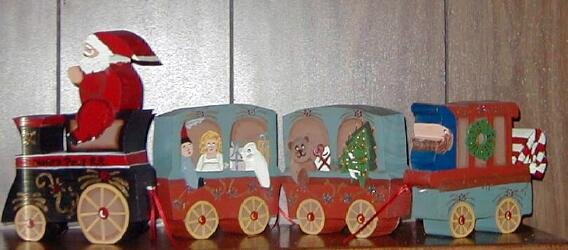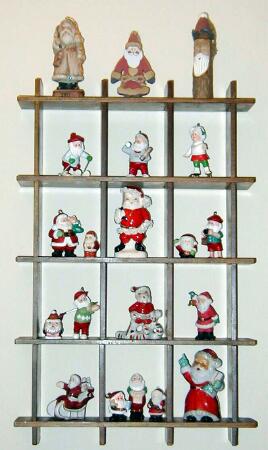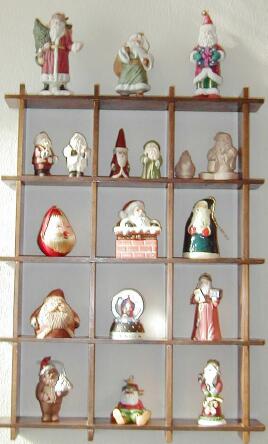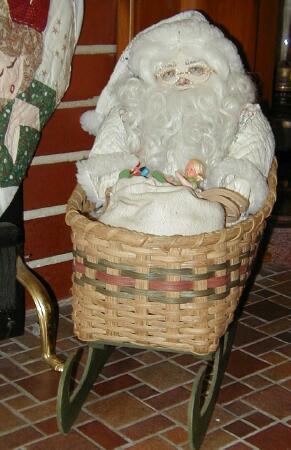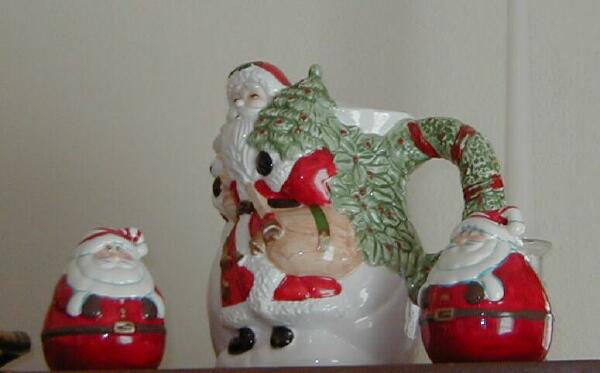 The Santa figure on the left is a cross-stitched dimensional figure.  The Santa picture in the center with the pencil Santas is cross-stitched.  The Santa in the sleigh basket has a cross-stitched face and his outfit is from a double wedding ring quilt that belonged to my mother.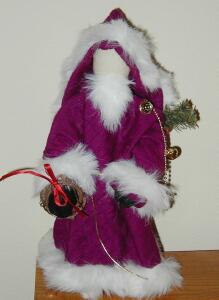 The wooden train with the Santa engineer was painted by my sister and cut out by her husband.  The cloth Santa figure on the right was made by my sister.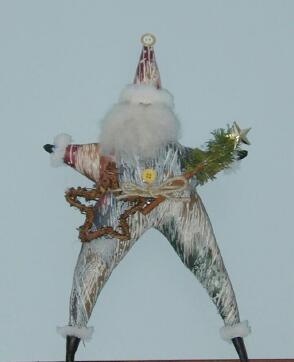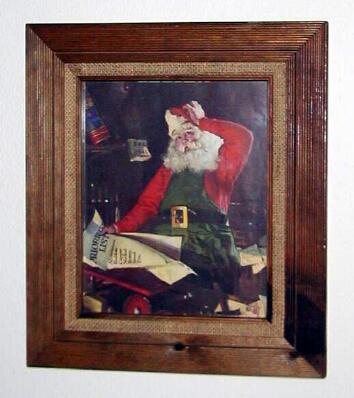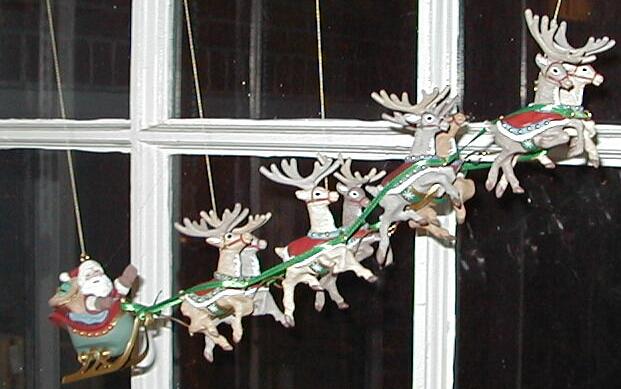 This Santa sleigh was a Hallmark introduction in 1992.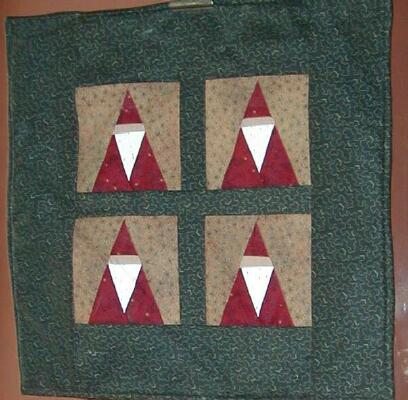 The Santa picture is a magazine cover during WWII and was a gift from my friend Mary Emas.  His list shows Aluminum, Copper, Nickel, Rubber, Tin.  The fabric wall hanging on the right is a piecework quilt and was a gift from my friend, Barbara Kuehl.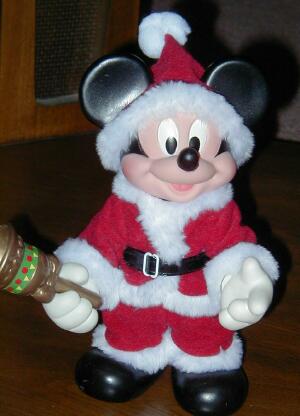 These small Santa figurines include Hallmark ornaments, procelain, wood, clay, and a few antique pieces.



The next three pictures show Santas I have on  3 shelves in a kitchen window.  The Santas in the left and right corners are wood.  The reindeer, snowman. Santa in the center are little porcelain bags.  Most of the other Santas on the top and center shelves are Hallmark.

All the items on the bottom shelf are bells--the four Caroler bells on the right are by Hallmark.

The Mickey Mouse  Santa was a gift from my husband and is his commentary on my collection.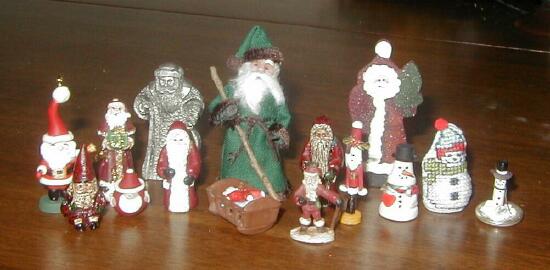 The Santas and snowmen shown below are from my mini collection and decorate my dollhouse at Christmas.  The tallest one is aroung 1-/4" tall.